What is the Best Teacher Effectiveness Assessment Out There?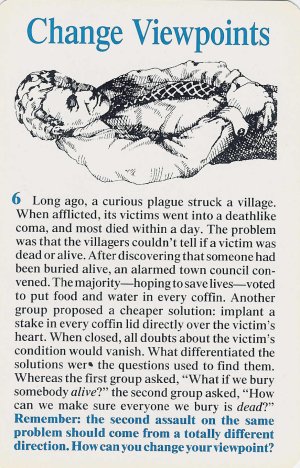 I was thinking about a card in the  Creative Wack Pack by Roger Van Oech that spoke of a town where people were struck down by a terrible plague that put its victims into a death-like coma that they would either wake up or die from.  When the townspeople discovered that they had buried some people alive, they naturally wanted to find a solution.   The solutions that they came up with were determined by the questions they asked themselves in order to solve it.  One group asked the question  What if we bury someone who is alive? Their solution was to put food and water in the coffin.  In this way, the person would be saved presumably until someone came to check. Some others asked a different question,  How can we be sure that everyone we bury is dead? They came up with another solution. Put a stake in the lid of the coffin over the person's heart and when the coffin was closed, all doubt would be erased.
High stake testing is a similar kind of problem.  It answers a particular question (inaccurately) : How can we be sure that teachers are doing their jobs? The solution? Make a test that students will take each year and determine whether teachers are doing their jobs by how their students do.  There are significant issues with this approach, not the least of which is that a test that determines whether teachers keeps their jobs will very quickly become the goal of teaching which narrows the curriculum and poisons relationships.  
It is true that there are mediocre teachers and some truly lousy ones. It's true that we can always do better.  But, it's also true that many schools are not broke and that many teachers do good work, even really great, inspiring work.  Evaluation through high stakes testing cannot hope to measure or inspire real quality of teaching.  It can't even guarantee to identify those teachers who aren't doing good work since teaching to a test is something we can all do.  It can only give that lovely false sense of security that one gets in front of data. there's something with a number to hold on to.
To be fair, some have asked, How can we attract and retain the best people? Their solution here seem to miss the dock, as well.  Wendy Knopp thought to create an elite cadre of teachers (TFA) who would teach for two years and then leap frog into policy positions where they would enjoy better status and have a greater impact on the problems of education.  (Short term teaching with a high status escape hatch hasn't really done that much for teaching as a profession)     And they talked about raising salaries to attract better students who might otherwise go for more lucrative work and offering merit pay on the premise that more money would naturally inspire teachers to do a better job.
All of these solutions are thuggish ones. First, they assume that most teachers are inadequate and need some sort of incentive to do their jobs.  I would argue that this is not the case.  And secondly,  they suffer from a lack of understanding of human motivation.   Daniel Pink, in his book Drive , argues that people are motivated by intrinsic reward.  As he points out, it isn't Encarta created by paid personnel that is the gold standard of online encyclopedias.  It's Wikipedia: open source, created by volunteers that is the go to reference site.  If you want to have the best people and get the best work out of the people you have, you have to aim at the best motivation that people have: the ability to use their talents, to feel like they are the owners of their work, that they have a purpose. Teachers don't do better work because you scare them to death or because you give them a cookie.  Pink says that people are motivated by autonomy, mastery and purpose.   I think he's right.
Michael McGill, Superintendent of Scarsdale Schools  is doing it the way I think it should be done.  He understand that the best assessment is a local one.  He begins with different questions: What kind of learning do we want children to have?  How can we create a climate in schools where that kind of learning takes place?  How do you encourage autonomy, mastery and purpose?  How will you know it when you see it?  It's the exact opposite of the carrot and a stick.  It recognizes that when the work itself IS the carrot, there is no stick.  It isn't VAM; It isn't a better VAM.  It's training, trust, purpose and expectation built into school culture.  It's opportunity and witness rather than gotcha.  This, not so coincidentially, is also a key to good teaching.  It's not that you don't measure, or that you don't have expectations and standards.  If you look at Scarsdale's scope and sequence for its Advanced Topics (which replaced AP exams) and at its Center for Innovation, you can see what's possible.  If you create a climate that encourages self direction, mutual respect and commitment, you can let the climate do its work.  It's a question of leadership.