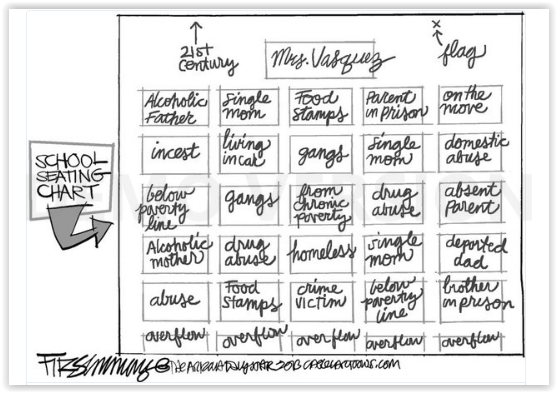 It started with that small firestorm about the Duluth cartoon… canonized at the74 by Derrell Bradford, executive director of NYCAN…  when it became clear that acknowledging the burdens that children come in with is labeling them. And it built up as the #thisteachersees army was mobilized over twitter, and as Derrell Bradford reframed the awareness of the burdens that children come in with, and when he framed acknowledgement of struggle as union teachers seeing children as deficits and using these deficits as excuses not to teach. So, suddenly another line was drawn for what you can do and you can't, what you may notice and you may not. Who is the good teacher and who is the bad one. Until every burdened child, and every teacher who notes it, became hay in the education wars.  

Of course, the argument is a strawman.  Acknowledging the burdens that a child comes to school with is not defining them in terms of that burden or making an excuse not to teach them.  It's an acknowledgement that in front of you sitting in a chair is a whole child with a set of experiences some of which are very hard and those difficult experiences impact learning and a host of things that actually matter if you want to help that child: self confidence, willingness to take risks, experience with healthy choices, amount of sleep the child got the night before, sense of security, trust for adults.

Yet, someone out there seems to think we should ignore such things.. that depicting or thinking about them is not positive.  It's labeling children as deficits rather than seeing what actually happens to them.
It's an argument that needs to be unpacked… and with greater care than they unpacked the cartoon which addresses the merest and most obvious fraction of the issues that children may come in with. (No one noted the little sidebar at the bottom that reminds  us that many of our public classrooms are overcrowded with more children in them than seats.)

"Yo hey", but they make hay out of it in Reformland.  So, I read Bradford's article indicting Randi Weingarten for including the cartoon. And, I read as many as I could of the counter narrative #thisteachersees tweets (courtesy of the MinnCAN app).  It was great to read what teachers were seeing about their kids.  But, as they tweeted away in diligent outrage at labels or in resolute cheerfulness about their young engineers, artists, comedians, and poets… I admit I also felt a strong desire to slap someone.  It wasn't because of what they were saying: #thisteachersees.  That was not what was unwonderful.  It's just that in context, the real hashtag is what #thisteacherchoosestosee. Maybe a real evolution is not curating at all.
I want to see what is there.  There's a beating life behind the eyes of every child in front of every teacher and knowing a little about that life in it's full complexity is not an excuse not to teach them or inability to see their beauty; neither is it a label.  Rather, it is a meaningful understanding about what hinders and helps children. It's explicitly choosing to consider what my students are facing when they aren't in my presence.  And knowing isn't just a side gesture that I can dispense with.  It's important because what I  know informs my ability to see why today might not be a good day, or why that book resonates with that child, or why this topic shouldn't be explored in the larger class setting.  The real life of the child matters, and it matters for very tangible reasons.
Teachers who get their ideas about what teaching is from CANs seem to be implicitly counseled to view acknowledging a child's burdens as making excuses not to teach that child.  The  good teacher focuses on student strengths and does not consider the child's circumstances when teaching them.  That's the province of weak teachers who make excuses.  Surely, focusing on a child's strengths is a good thing. Being cheery and positive is a good and healing thing. But, it might also be a feature of the social darwinism of reform.. the grit argument writ large: don't make excuses, and anything other than bucking up and hunkering down is an excuse. If you are successful, later on you can put your burdens on your resume.  In the meantime, show some grit.
That agreement not to see, to turn resolutely away from the full context of a child's life, to arm them with grit but no background works perfectly with the no context Common Core and with the reform movement generally.  Everything is reducible in Reformland.  Toughen up for the New Normal. We'll remove context.. context about what worked before, context about what we read when we read,  context about our children when we teach them. Context about what we said last week. We will be optimists and amnesiacs. We can test anything that matters, and we can improve anything we test. We will listen to that which we have decided to hear. We will understand that which we have  agreed upon. We will nod in understanding, and our students will be what we see in them.  Our ignorance will be the new Black.
And that brings me full circle to thoughts about my own contexts.  On the outside, I have always assumed that in some ways I am similar to many of these rich, do gooder kids…. older… (like in as-old-as-their-mothers old)… less rich than many,  less private schooled, definitely not groomed for greatness or position…  but otherwise very near like. Also smart and committed. Also outraged at the way in which low income schools I've taught in weren't meeting the needs of my students.  I focused on bad pedagogy, poor funding formulas, large class sizes, absent support structures and lack of books. They focused on bad teachers.  But otherwise identical: we both saw the schools as lacking. I also preached to my elders about their neglect of the important work that needed to be done.  In some respects… I was just an earlier edition of the savior teacher. Call me Savior 1.0.
But, I think perhaps I have been wrong. I'm not actually a lot like Savior 2.0, at all.  For one thing, I don't believe in saviors anymore. I  just believe in teaching, staying fresh and in hopefully getting the chance to be the right one at the right time for someone.  I also don't have the Savior 2.0 context. No one told me that all the teachers who came before me sucked.  I was never told that there was leadership, personal reward and position waiting for me following a short stint in the classroom.  And, I don't have the Savior 2.0 resume. Unlike a 2.0, I don't burst forth from a well cared for, optimistic, future forward, affluent family where parents are emotionally available.. I didn't go from my Montessori preschool to my great private school, to my selective college. I wasn't one to whom every opportunity was offered and exploited. I was not one of the rich kids of reform with their cultivated lives, dance classes, horseback riding lessons, sororities, and summer camp. I was not blessed with a wealthy kid's self assurance or massive sense of entitlement as they pursue (without a trace of irony) social justice entrepreneurship.  But, I'm also not a poster child for making it against all odds. I was not at all like the Derrell Bradfords and John Kings of reform. No one would ever think to tell me that I was the hero of my own story.  Or write up my resume with a list of my deficits and how I overcame them.  I didn't even know that there was a race on for who was going to get to be somebody. I was just a smart, quiet, troubled kid in the back of the room at school.  Not a figurehead for reform. I merely came from a home in which terrible and violent things happened.
I don't share the cheerful removal of unpleasant context as if acknowledging these is a crime against grit and hope. I don't share the ability to negate and erase my students' experiences  because when you come from a home in which terrible things have happened, you don't get that ability.  And this understanding informs what I know about trauma and contexts.  It informs how I feel things. (I am somewhat of a calloused raw nerve. Hypervigilant and detached), but it also helps me to understand that people are full universes with all the contexts that they carry. I understand that suffering is not a badge of honor or a resume item, but it is part of us; it is not separate from who we are. I also understand that in our humanness is the best of what we bring to our work.  I am okay with what I experienced in my life; my contexts inform what kind of teacher I am because they inform what kind of human being I am.  For today… it also informs what I think about the  #ThisTeacherSees movement, and what I think about what a teacher doesn't necessarily see.